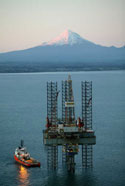 I signed off regular writing for Hot Topic some months ago. But failing eyesight doesn't mean failing concern, and my anger at the way our government heedlessly pursues the expansion of fossil fuel exploration led me recently to reflect I could still see sufficiently to write letters to editors. Publication of a letter by the NZ Herald emboldened me to try something for the dialogue page. It wasn't accepted, on the reasonable  ground that they were about to publish an article by Jim Salinger which they described as along the same lines.
However I thought Hot Topic readers might be interested in my attempt to attack the government on moral grounds. I acknowledge that politics and morality make uneasy bedfellows, and that moral absolutism is hardly a suitable tool for political effectiveness. Nevertheless sometimes issues arise where shades of grey can legitimately be challenged by something closer to black and white, and that transition is certainly much earlier along the path of fossil fuel exploitation than our government (and many other governments) is currently inclined to allow.
The moral appeal is strongly made by many who write and speak on the climate issue. Al Gore sounds it regularly. Among the many books I have reviewed on Hot Topic I recall being struck by what William Calvin's book Treating a Fever had to say on the question, as I summarised in the review:
"He also pins hope on religious leaders coming to see that climate change is a serious failure of stewardship and our present use of fossil fuel is a deeply immoral imposition on other people and unborn generations. Their arguments will trump the objections of the vested interests, just as they did when slavery was ended in the 19th century."
Whether there's any hope of an onslaught by religious leaders in church-going US, or for that matter in less religion-oriented NZ, is hardly yet clear, but the appeal to morality can be sounded just as well by those of no religion, and is worth making if we set any value on the finer human traits.
Here's the piece I submitted to the Herald. Hot Topic readers will understand that it was written for a general public audience.
Continue reading "Morality, government and fossil fools (Bryan's back!)"