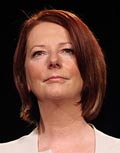 Today could be viewed as an historic day for Australia, where the carbon tax has just today been voted through the Senate. Historic, yes, because it's taken 20 years for Australia to finally implement this legislation. Finally, a price has been put on carbon in Australia. O my, what a fight it has been. If the NZ Herald thought Robyn Malcolm's attack on John Key at the weekend was "vitriolic", I'm not sure how they'd label the toxic politics across the ditch.
Tony Abbott has vowed in blood to repeal the package. He's been obsessed with blood, baying for Julia Gillard's all year. But it doesn't seem to have got him anywhere — his unpopularity has reached new heights today, according to a news poll today.
I'm not going to go into the details of the tax and how it compares with NZ, as Mr February has covered that far better than I ever could in two excellent blogs here and here.
The tax has rallied the right. And boy have they rallied, with anti-carbon tax rallies up and down the country, festooned with abusive placards like "ditch the bitch" – and much, much worse. At one point even Tony had to distance himself from these, his most avid supporters.
Continue reading "Baby steps: Australia's carbon tax passes Senate vote"