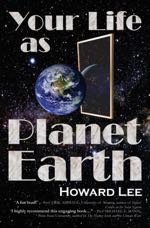 "We can't make sense of our future until we make sense of our past", writes Howard Lee in his recent book Your Life as Planet Earth: A new way to understand the story of the Earth, its climate and our origins. The book demonstrates the very considerable sense that science has been able to make of our past. There are clear lessons for us as we forge our future, though whether the political leadership is able to take on board those lessons is moot.
In the first part of the book Lee provides a highly readable account of the turbulent history of the planet in the four and a half billion years of its existence. Geology, climate and the evolution of life are the recurrent themes. He measures this long history against an imagined human life spanning a century. It's an entertaining and effective way of depicting the enormous spans of time before humans arrive on the planet. On this measure simple life starts in the teens of the centenarian's life; oxygen arrives during the mid-life crisis; primitive plants and fungi start to colonise land in the late 70s; at 86 complex animals show up; in the 90s four-legged life evolves from fish; at 98 the dinosaurs are extinguished; homo sapiens doesn't emerge until the 29th December in the final year. And in the few remaining minutes of that last year we have achieved a rapid rise in atmospheric carbon dioxide to levels not seen since the Pliocene, three and a half million years ago.
Our rates and quantities of carbon dioxide generation are rivalling those of the great igneous eruptions which had highly destructive effects on the climate of their times, triggering global warming, ocean anoxic events and mass extinctions. We're making our presence felt in no uncertain manner, and Lee sees no reason to assume we can avoid the consequences which attended past rapid escalations of carbon dioxide in the atmosphere.