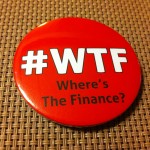 When people just arriving in Warsaw over the last few days ask me how long I've been here, my general response has been "all my life." That's what it feels like.  You'd think I'd be used to this, it being my 11th COP. But there's nothing like that special feeling of tiredness having been in a hideous, air-conditioned stadium for 15 hours a day. And I'm not even a negotiator.
We had a discussion today about whether a warm weather COP is better for achieving progress on the climate than a cold one, and it seemed this was so. Bali, Cancun and Durban did make better progress, on the whole, than Poznan, Copenhagen, and now Warsaw.
Today was the day that a bunch of civil society walked out of the Polish National Stadium. WWF, Greenpeace, Action Aid, 350 and Oxfam, along with unions and youth left the meeting, noisily, in big numbers and with the slogan "polluters talk, we walk," in protest at the way the fossil fuel industry appears to be running progress, or lack thereof.
I understand where they're coming from.  Separate Oil and State and you'd get a lot further than where we are right now. Some NGO's are staying inside to help steer the process through to the bitter end, which also seems understandable.