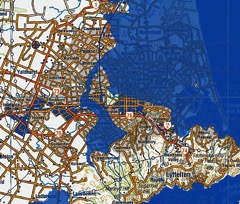 New Zealand's merry little band of climate deniers are turning out to be a right bunch of Cnuts. Sea level rise and its implications for Christchurch and the wider world have been making news in recent weeks — as have new projections of rapid sea level rise over the remainder of this century. So what does a good climate denier do? To stay faithful to their core belief — that climate change isn't happening, or isn't going to be bad — they have to argue against policies designed to deal with its impacts, as well as those intended to cut carbon emissions. Sea level rise? Like Cnut, they line themselves up against the waves.
I've blogged many times on the challenge sea level rise poses for post-quake Christchurch. The 2011 quakes caused large parts of the city to drop by up to half a metre — effectively delivering decades of sea level rise in a matter of minutes. For some areas of the city tidal and run-off flooding are now commonplace.
The current debate on sea level issues has been prompted by the city council's long term planning process — which recommends1 that development should be restricted in areas where future sea level rise is expected to cause problems. Not surprisingly, this has some owners of coastal properties concerned that they will lose out. The council has also looked at the idea of building a tidal barrier across the Avon-Heathcote estuary to protect the city.
Local politics and property owner self-interest is bumping into the harsh realities of climate change, leading to a wide variety of responses — including "it isn't happening".
Continue reading "Postcards from La La Land: the Cnut conundrum"