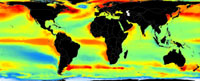 Something of a miscellany today, coupled with an open thread, to keep you going during a brief pause in posting. First up: a study published this week in PLOS Biology looks at changes in ocean chemistry, temperature and primary productivity over the next century under two emissions scenarios, and finds that no corner of the ocean escapes untouched. From Science Daily:
"When you look at the world ocean, there are few places that will be free of changes; most will suffer the simultaneous effects of warming, acidification, and reductions in oxygen and productivity," said lead author Camilo Mora, assistant professor at the Department of Geography in the College of Social Sciences at the University of Hawai'i at Mānoa. "The consequences of these co-occurring changes are massive — everything from species survival, to abundance, to range size, to body size, to species richness, to ecosystem functioning are affected by changes in ocean biogeochemistry."
It's been a productive few weeks for Mora: he was lead author on a recent study1 published in Nature that estimated when climate in different parts of the world would move beyond anything experienced in the last 150 years — have a play with this interactive map to find out when your part of the world will move into the unknown. See also Climate Central, Science Daily, and a huge amount of press coverage.
Continue reading "Something (early) for the weekend: grim forecast for oceans and the roots of denial"
Full text, free! [↩]