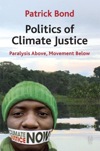 I warm to any writer who identifies the solution to climate change in the simple terms employed by Patrick Bond in his recent book Politics of Climate Justice: Paralysis Above, Movement Below: leave fossil fuels in the soil, halt deforestation, transform our economies so that renewable energy, public transport and low-carbon systems replace those currently threatening the planet. Short and simple to articulate, he comments, but apparently impossible to implement.
Bond writes from Africa, where he is a professor at the University of KwaZulu-Natal. He carries a deep sense of the damage that climate change is causing and will cause to African societies, and calls for justice not only in the mitigation of further climate change but also in substantial transfers of wealth to enable poor countries to cope with the adaptation and mitigation measures demanded of them. He sees this as the payment of an ecological debt.
Carbon trading he regards as a charade that will do nothing to reduce global warming. It has been accepted as the primary capitalist management technique but offsetting emissions is not the same as cutting them, and to date there is little sign that the wealthy countries are achieving emissions cuts by emissions trading. Shifting, stalling and stealing are the words he uses to describe such trading, as capitalism frantically seeks new ways to address its crises and avoid threats to its over-accumulated capital.