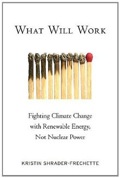 Kristin Shrader-Frechette of the University of Notre Dame is rigorous in the presentation of her argument in What Will Work: Fighting Climate Change with Renewable Energy, Not Nuclear Power. In recent times a number of leading environmentalists have concluded nuclear power has to be employed to enable the transition away from fossil fuels. Shrader-Frechette disagrees. There is no "devil's choice" between expanding nuclear fission and enduring climate change. Nuclear power is not needed, and it's certainly not desirable.
Not that the author in any way downplays the need to give up the use of fossil fuels. She fully accepts the science of climate change and what is needed to avoid climate-related catastrophe. Objections to taking action are listed in detail and briskly dismissed. The people who deny climate change for profit are categorised and exposed for their role in misleading the public. Among them, sadly, are the American politicians who repay campaign fund donations from fossil-fuel companies by denying or delaying climate change issues.
But Shrader-Frechette rejects the argument that nuclear power is necessary in the energy mix if we are to address climate change quickly enough to be effective. A substantial part of the book is devoted to showing that nuclear energy is not only undesirable but also diverts much-needed investment and government subsidy from energy efficiency and renewable energy development. Far from being part of the solution it gets in the way of solution.