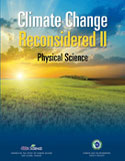 Over the weeks since the release of the first section of the IPCC's Fifth Report, the Heartland Institute — the Chicago-based extreme right wing and free-market propaganda outfit that has done so much to promote climate denial — has been trying to get media traction for its latest Not-the-IPCC report (NIPCC: the Nongovernmental International Panel on Climate Change), Climate Change Reconsidered 2: Physical Science. Heartland describes CCR2 as…
… an independent, comprehensive, and authoritative report on the current state of climate science.
The truth is somewhat more prosaic. CCR2, like its predecessors, is an extended effort in cherry-picking and misdirection designed to demonstrate that, as Heartland puts it:
…the human effect is likely to be small relative to natural variability, and whatever small warming is likely to occur will produce benefits as well as costs.
For a detailed take-down of the NIPCC's main arguments, take a look at Graham Wayne's Notes for Educators, prepared as a response to an effort by Heartland to push CCR2 to schools in the US. Wayne notes:
The NIPCC report is akin to a confidence trick. It is pseudo-science, badly presented, made difficult to assess or check, and depends on 'blinding the reader with science' that may look credible until you actually try to verify those claims against the peer-reviewed published literature.
Climate statistician Tamino was equally unimpressed, suggesting that the NIPCC would be better designated the ICP – for Intentional Cherry-Picking in service of a predetermined conclusion.
My interest in the latest NIPCC "report" was piqued by the discovery that Don Easterbrook, the retired geologist with a long track record of misunderstanding and misrepresenting the Greenland ice core temperature record, was the lead author of chapter 5, Observations: The Cryosphere [pdf]. The NIPCC is clearly not blessed with an overabundance of qualified authors if they have to rely on Easterbrook as an expert on the cryosphere. Worse, his co-authors are two other retired geologists with little or no domain expertise: Cliff Ollier from Western Australia, and Bob Carter, a marine stratigrapher and all-purpose climate denier who never saw an argument against warming that he didn't like1.
My first reaction to a quick skim through the chapter was pretty much the same as everybody else: this was cherry-picking taken to an extreme. To make sure that I was on the right track, I asked two real ice experts — Greenland maven Jason Box, and glaciologist Mauri Pelto — to take a quick look. Their reaction was scathing.
Continue reading "Heartland's Big Book Of Lies About Climate Change cuts no ice, thanks to Don Easterbrook"
Carter is also one of the lead authors of the full report. [↩]