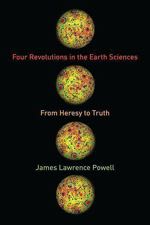 James Lawrence Powell is a former geology professor, college president and museum director. He is currently the executive director of the US National Physical Science Consortium. He is also an excellent communicator of science for the general reader. I reviewed two of his climate change-related books back in 2011 here and here. His latest book, Four Revolutions in the Earth Sciences: From Heresy to Truth, is wider in its scope, and places climate science alongside three other major scientific understandings which emerged in the course of the 20th century, profoundly affecting our knowledge of the planet.
Powell the geologist was familiar with the fact that great geological discoveries of the 20th century had had to struggle for decades to gain acceptance by the community of geologists. It was no easy ride for the propositions that the planet is billions of years old, that continents and sea floors move, and that meteorites crash into the earth. The opposition and the controversy his book narrates were often intense before the theories gained wide acceptance.
Powell had researched modern climate science, but was less familiar with its past history. He discovered that its early proponents had also suffered initial rejection of their theories and it was many decades before the correctness of their discoveries was acknowledged.