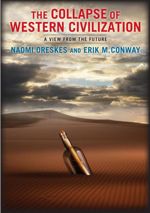 Science historians Naomi Oreskes and Erik Conway, co-authors of the acclaimed Merchants of Doubt, have joined forces again to produce a striking short fictional work The Collapse Of Western Civilization: A view From The Future. It purports to be an essay written by a Chinese historian three hundred years after the collapse of western civilisation towards the end of the 21st century when untrammelled climate change took its full effect.
The period of the Penumbra (1988-2093) ended in the Great Collapse and Mass Migration (2073-2093). That's the scope of our Chinese historian's survey. He (or she)records the dawning scientific realisation of the effects human activities were having on the planetary climate, the setting up of the Intergovernmental Panel on Climate Change and the first manifestations of the change in the intensification of fires, floods, hurricanes, and heat waves. Thus far he writes of matters familiar to us.
He then moves on to recount the rapidly mounting disasters as the century proceeds. It's somewhat unnerving to read of what we know as predictions as if they had already become the stuff of history. All the more unsettling because anyone who follows climate science will recognise that the chain of disaster he traces, from failing food crops in intense heat waves to unmanageable sea level rise as the West Antarctic and Greenland ice sheets begin to disintegrate is entirely possible if greenhouse gases continue to be pumped into the atmosphere by human activity. The resultant human suffering and death the historian records may be more speculative from our end, but his calm account of the human consequences has a dismaying ring of likelihood to it.
Continue reading "The Collapse of Western Civilization: A View From The Future"