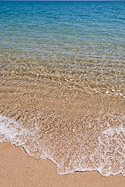 It's summer down south, and New Zealand's politicians have embarked on their summer break. It's summer in Waipara too, and with yesterday topping 30ºC and today heading in the same direction, your blogger has immediate climate concerns of an irrigation and vine management nature to attend to. So, with apologies for what may turn out to be less frequent posting over the next few weeks, here's a quick round-up of stuff worth reading.
The NZ government will be relieved to be heading to the beaches after being battered by a hail of criticism for their climate policies over the last week. Brian Fallow, the NZ Herald's economics editor, was especially direct in his dissection of NZ's climate policy settings post-Doha:
The Government's climate change policy is a shambles and a disgrace. Unless, that is, you are happy for the costs of the inevitable adjustment to a low-carbon future to be needlessly increased and pushed onto the young, in which case it is doing a great job.
Gareth Morgan joined in, calling for the government to come clean about what its policies really mean:
Continue reading "NZ climate policy shambles, and other summer reading"