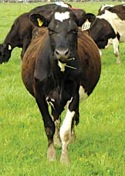 This, from Don Nicolson, president of Federated Farmers, appropriately titled In denial over denial, slipped under the radar last week while I was watching the ACT car crash.
Recently Climate Change Minister Dr Nick Smith added another target — a 50 percent reduction below 1990 levels by 2050. When these targets are missed I doubt reporters will be doorstepping octogenarian ex-cabinet ministers for a 'please explain'.
I agree that the targets will probably be missed. And I too would like to be able to ask the hard questions in 2050. But the explanation is not too hard to find. Farmers, amongst others, get free credits with no incentive to reduce emissions. Idiot/Savant at No Right Turn has done the legwork here, here, and here . Don Nicolson continues:
There is one way to get emissions 73 percent below current levels and that's to turn the clock back to 1946. A time when there were 1.7 million New Zealanders, fewer motor vehicles and overseas travel was by flying boat or ocean liner. Let's focus on what we can control — efficient resource use.
I agree that more efficient resource use is required Don. Furthermore I am delighted to infer from your comments that no goad or incentive is required and that purest altruism will drive farmers towards that efficiency. As Charlie Pedersen, previous president of Federated Farmers, said: You are all climate change heroes.