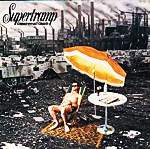 New Zealand political reaction to the IPCC's WG2 report has divided along expected lines: the Green Party and Labour used the findings to call for more action, the National-led government "welcomed" the report but said it is already doing enough, while the fringe right wing ACT party issued a press release making the abolition of the emissions trading scheme a condition of its support for any future National government. If the Scoop web site is to be believed, none of the other political parties with seats in parliament or hopes of election could be bothered to issue a press release in response to a report that makes it plain that climate change is here now, and set to get very much worse in future.
Climate change minister Tim Groser's press release is a little more measured than a comment he made to TVNZ News in a story foreshadowing the WG2 release:
Grocer (sic) says the environment will determine what action will need to be taken.

"We're not playing God on this. That natural process will determine what happens to adaptation of human beings and other mammals and species," he said.
Survival of the fittest, or survival of the richest perhaps? That sounds almost as hands-off as new ACT leader Jamie Whyte's policy proposals on TVNZ's Q+A on Sunday morning. He was interviewed head to head with Green Party co-leader Russel Norman, apparently because the National Party refused to front up for a discussion on climate change1. The video's here.
Whyte, a former management consultant, foreign currency trader and philosophy lecturer who recently became leader of the ACT Party2, looked to have a very poor grasp of the subject when he advocated a strict do-nothing approach to dealing with climate change. Action to reduce emissions was "irresponsible moral exhibitionism", he said, because money would be better spent on adapting to climate changes. Global action on emissions reduction, he asserted, should be lead by the worst affected countries:
It's for these poorer countries to lead the way because the trade off is harder for them.
The moral and intellectual bankruptcy on display in Whyte's statement is breathtaking, and his argument so fatuous that it beggars belief that anyone with half a brain would advance it in public. As Green Party climate spokesman Kennedy Graham pointed out:
Mr Whyte needs to demonstrate his talents in the next few months describing ACT's policies for a world adapting to a temperature rise of 2ºC to 4ºC. That is described by World Bank consultants as exceeding 'dangerous' climate change and entering the realm of 'catastrophic'. What we see around us today by way of impact – overseas, and even here in New Zealand, is on the strength of 0.8ºC to date.
All Whyte had to offer on Sunday was a glib "I would do absolutely nothing", which is not a million miles away from present government policy.
It's tempting to demonise Whyte — it looks to be all too easy, in this election year, to show him to be an ideologue living in la la land — but the real villains of the piece are Tim Groser and his National Party colleagues. They have presided over a deliberate dilution of the climate policies they inherited from the last Labour-led government, and now have policies set to increase NZ emissions over the long term. A senior NZ climate scientist told me that their attitude to the whole complex climate issue was "active indifference".
To accept the science, as Groser and co do in public, but then to ignore the need for urgent action is hypocritical in the extreme, grossly irresponsible, and a very long way from the best interests of the people of New Zealand, now and for all the generations to come. Riding out all that climate change is going to throw at us is a matter of survival. If we are to do that, New Zealand needs real leadership, not glib assurances that we're doing all we can when the opposite is true.
At a meeting held at long-time party funder and committed climate denialist Alan Gibbs' house. [↩]