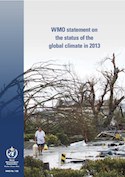 The World Meteorological Organisation's (WMO) state of the climate report for 2013 was released on Sunday (pdf), and provides a very useful overview of last year's weather and climate events. It confirms that 2013 was the 6th warmest year in the long term record (tied with 2007), that 13 of the 14 warmest years in that record have occurred this century1, and that the litany of extreme weather events that struck the planet is in line with what would be expected on a warming planet.
WMO Secretary-General Michel Jarraud said:
There is no standstill in global warming. The warming of our oceans has accelerated, and at lower depths. More than 90 percent of the excess energy trapped by greenhouse gases is stored in the oceans. Levels of these greenhouse gases are at record levels, meaning that our atmosphere and oceans will continue to warm for centuries to come. The laws of physics are non-negotiable.
On extremes, Jarraud was equally direct:
…many of the extreme events of 2013 were consistent with what we would expect as a result of human-induced climate change. We saw heavier precipitation, more intense heat, and more damage from storm surges and coastal flooding as a result of sea level rise – as Typhoon Haiyan so tragically demonstrated in the Philippines.
Here's the full list of the WMO's key climate events of 2013:
Typhoon Haiyan (Yolanda), one of the strongest storms to ever make landfall, devastated parts of the central Philippines.
Surface air temperatures over land in the Southern Hemisphere were very warm, with widespread heat waves; Australia saw record warmth for the year, and Argentina its second warmest year and New Zealand its third warmest.
Frigid polar air plummeted into parts of Europe and the southeast United States.
Angola, Botswana and Namibia were gripped by severe drought.
Heavy monsoon rains led to severe floods on the India-Nepal border.
Heavy rains and floods impacted northeast China and the eastern Russian Federation.
Heavy rains and floods affected Sudan and Somalia.
Major drought affected southern China.
Northeastern Brazil experienced its worst drought in the past 50 years.
The widest tornado ever observed struck El Reno, Oklahoma in the United States.
Extreme precipitation led to severe floods in Europe's Alpine region and in Austria, Czech Republic, Germany, Poland, and Switzerland.
Israel, Jordan, and Syria were struck by unprecedented snowfall.
Greenhouse gas concentrations in the atmosphere reached record highs.
The global oceans reached new record high sea levels.
The Antarctic sea ice extent reached a record daily maximum.
The WMO has published a very nifty interactive map of the year's notable events here (requires Flash). Clicking on individual events brings up a pop-up with details of what happened. Well worth exploring.
Meanwhile, the prospects for 2014 and 2015 are becoming more "interesting" with each passing week. The chances of the tropical Pacific slipping into El Niño mode are increasing according the Bureau of Meteorology in Australia and NOAA in the US. El Niño years are generally associated with a spike in global temperature and increased extreme weather events.
See also: The Conversation, The Guardian, Climate Progress.
The 15 warmest years have all happened since 1998. [↩]