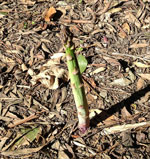 If you think it's been a warm winter in New Zealand, you're right. NZ is rapidly approaching the end of a record-breaking winter — the warmest for at least 150 years1. Calculations by Auckland climate scientist Jim Salinger show that NZ's average temperature for June/July/August is running at 9.5ºC, a remarkable 1.2 deg C above the 1971-2000 average, and comfortably ahead of 1998's old record of 9.3ºC. Commenting on the numbers, Salinger notes the absence of cold snaps in recent months:
The door to cold spells from the Southern Oceans — apart from a brief surge in June — has been well and truly closed this winter. September-like temperatures have been occurring throughout August, giving the country its warmest winter and August ever.
The long term warming signal is clear, he says:
The clearest climate warming signal is seen in winter, where temperatures are now 1.1 deg C warmer than they were around 1870. The warming trends have been very consistent, especially since the 1950s, when frosts days have decreased dramatically across the country.
I can certainly vouch for the absence of frost. At Limestone Hills, we recorded 19 frost days in 2011 and 23 in 20122, but only 6 so far this year. Evidence of winter warmth can be seen in gardens around the country. The asparagus spear pictured above first poked its head out of our soil two weeks ago, and is now being joined by half a dozen more — at least a month earlier than normal for North Canterbury.
To unpick just why this winter's been so warm, I asked VUW climate scientist Jim Renwick to look back at the atmospheric circulation set-up in the New Zealand region. Here's his (lightly edited) analysis:
For the winter as whole:
Pressures were anomalously high to the east of New Zealand, weakened westerlies. Unusually low pressures down over the far south central Pacific. 1000-500hPa mean temperatures were 1-1.5 deg C above normal over New Zealand. The NIWA outlook for winter temperature was near-perfect!
For August:
Anomalously high pressures southeast of New Zealand, linked to a negative Southern Annular Mode (SAM) signature. Northerly flow anomalies over New Zealand. 1000-500hPa mean temperatures around 2 deg C above normal over New Zealand. You can see a warm 'tongue' extending from subtropics to Antarctic, at the longitudes of New Zealand.
When I contacted Jim R for his take on the winter, I noted that the Antarctic sea ice — which in recent years has tended to "bulge" north towards New Zealand — is reduced to our south, but unusually far north in the Pacific to the west of South America. He found that a strong northerly flow anomaly over Ross Sea ( giving anomalously warm air there), southerly over Amundsen/Bellingshausen (anomalously cold there), helped to produce that sea ice pattern.
Jim R's conclusion:
So, it has been a warm winter, brought about by persistent anticyclones east of New Zealand, a combination of the negative SAM (at times) and the tendency for zonal wave 3 ridges3 to sit near the Date Line. Lots of northerly wind flow anomalies over New Zealand, associated with persistently warmer than normal air.
Across the Tasman, Australia has also had an unusually warm winter, and 2013 is shaping up to be the country's hottest year on record. The NZ record, with updated numbers, will be officially confirmed by NIWA in early September.
Listen to Jim S discussing the record on RNZ National's Morning Report:
Reliable temperature records in NZ date back to the 1860s. [↩]
For the full year. Frost days are any day where the temp falls below zero, and are unusual (1 – 2 a year) after August. [↩]
Aka Rossby waves. Zonal waves can be considered as persistent "wiggles" in the jetstream that affect the way that surface weather systems track around the world. Jim will be giving a talk on ZW3 at AGU in December. [↩]