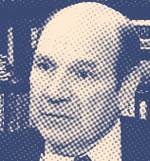 John O'Sullivan — the pseudosceptic who is serially and persistently wrong about almost everything he chooses to write about, and who has made a career out of misrepresenting his own abilities and qualifications — is at it again. In a "review" of a new book by Canadian denier Tim Ball (left), O'Sullivan1 writes:
The courage and forthrightness Tim Ball has shown with this book, and in the British Columbia Supreme Court defending himself against the now failed libel suit of Michael Mann, is about to be vindicated by the judiciary. As the scientific community awaits Ball's impeding legal triumph, we may edify ourselves not just with the black and white evidence presented in this extraordinary publication, but in the certain knowledge that Mann and his co-conspirators have spectacularly failed in their bid to silence dissent against their fraudulent science.

Mann's abortive attempt to sue Ball in the British Columbia Supreme Court ultimately back-fired because Mann refused to show his metadata, his calculations for his junk science, in open court. Now Mann faces possible bankruptcy on top of professional suicide, as the price for his misdeeds.
What purple prose! What hyperbole! What utter crap.
Mann's lawyer, Roger McConchie writes:
Their assertion that Dr. Mann faces possible bankruptcy is nonsense. Dr. Mann's lawsuit against Dr. Ball and other defendants is proceeding through the normal stages prescribed by the BC Supreme Court Civil Rules and Dr. Mann looks forward to judicial vindication at the conclusion of this process.
In other words: O'Sullivan's wrong again. The court case is very much on, and Tim Ball is in deep trouble. Ball's book, teasingly titled The Deliberate Corruption of Climate Science is another matter. A cursory glance at the sample available via Amazon suggests that it's yet another in a long line of conspiracist nonsense about the climate issue — eerily reminiscent of Ian Wishart's Air Con in its suggestions of cabals at the UN, environmentalism as a religion, and Maurice Strong and Prince Philip as some sort of evil overlords. Mr McConchie is undoubtedly looking over the text with considerable interest…
With co-author Hans Schreuder. [↩]