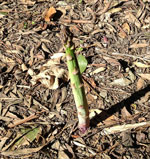 If you think it's been a warm winter in New Zealand, you're right. NZ is rapidly approaching the end of a record-breaking winter — the warmest for at least 150 years1. Calculations by Auckland climate scientist Jim Salinger show that NZ's average temperature for June/July/August is running at 9.5ºC, a remarkable 1.2 deg C above the 1971-2000 average, and comfortably ahead of 1998's old record of 9.3ºC. Commenting on the numbers, Salinger notes the absence of cold snaps in recent months:
The door to cold spells from the Southern Oceans — apart from a brief surge in June — has been well and truly closed this winter. September-like temperatures have been occurring throughout August, giving the country its warmest winter and August ever.
The long term warming signal is clear, he says:
The clearest climate warming signal is seen in winter, where temperatures are now 1.1 deg C warmer than they were around 1870. The warming trends have been very consistent, especially since the 1950s, when frosts days have decreased dramatically across the country.
I can certainly vouch for the absence of frost. At Limestone Hills, we recorded 19 frost days in 2011 and 23 in 20122, but only 6 so far this year. Evidence of winter warmth can be seen in gardens around the country. The asparagus spear pictured above first poked its head out of our soil two weeks ago, and is now being joined by half a dozen more — at least a month earlier than normal for North Canterbury.
To unpick just why this winter's been so warm, I asked VUW climate scientist Jim Renwick to look back at the atmospheric circulation set-up in the New Zealand region. Here's his (lightly edited) analysis:
Continue reading "The big warm: NZ heading for warmest-ever winter"
Reliable temperature records in NZ date back to the 1860s. [↩]
For the full year. Frost days are any day where the temp falls below zero, and are unusual (1 – 2 a year) after August. [↩]