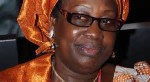 The government in New Zealand may make soothing noises about climate change impacts, but that is not an option for the Minister of Environment in Nigeria, Mrs Laurentia Mallam. She issued this chilling warning about the impacts of sea level rise a few days ago:
"Studies have projected that with an accelerated sea level rise of 0.5 meters, 35 per cent of the Niger Delta land mass will be lost, and with accelerated sea level rise of 1.0 meters, 75 per cent of the Niger Delta will be gone under water.

"Given this scenario, it implies that nearly 32 million people (22.6 per cent of the national population) who live along the coastal zone are at the risk of becoming environmental refugees. Such forced movement could result in social frictions arising from demands of land resources for economic activities by the refugees."
For good measure she listed the full effects of climate change on her country:
"In Nigeria, the impacts of climate change are manifested by erosion and landslides in the east, drought, and desertification in the north, raising sea levels in the coastal areas and flooding across the nation."
The adaptation measures required by Nigeria will obviously be of staggering proportions, and add urgency to the need to prevent the problem from getting even worse than it is already going to be.
Continue reading "Out of Africa: Nigerian environment minister warns of devastating climate impacts"