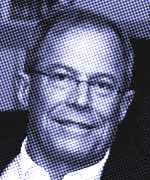 The National Business Review — New Zealand's biggest-selling business weekly — provides a happy media home for climate deniers of all stripes. Columnists like former ACT Party leader Rodney Hide and right wing spin doctor Matthew Hooton1 are given free rein to rant and rave about climate issues, but occasionally editor Nevil Gibson offers its august platform to others so that they can spout fatuous piffle. Last week's issue featured an opinion column by Chris de Freitas, in which he waxes lyrical about his recent paper on the NZ temperature record — the shonky one that claims to find warming to be only one third of what real experts calculate.
The NBR hides most of its material behind a paywall, so I can't link directly to the text — but the less scrupulous chaps at the NZ Climate "Science" Coalition2 are happy to host a pdf lifted from the NBR site.
As you might expect, de Freitas doesn't restrict himself to narrow concepts of truth and factual accuracy. He mentions the cranks' court case…
The High Court ruled against the trust and ordered it to repay court costs.
… but neglects to point out that the trust has since failed to pay those costs. It has of course been put into receivership, thus allowing the trustees to escape the $90,000-worth of financial consequences of losing their crackpot case.
de Freitas also misrepresents the membership of the trust.
Continue reading "National Business Review: last bastion of climate denial in NZ pushes de Freitas tosh"
Hooton's last column on climate matters appeared two weeks ago, and managed to be a spectacular home goal. But then he's no stranger to those. [↩]
Let's not forget that they are quite happy to register a charitable trust to bring a court case against NIWA, and then fold it so that the trustees can escape the financial consequences of their actions, so the fact that they are happy to disrespect the NBR's paywall should come as no surprise. [↩]