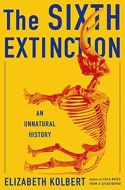 Elizabeth Kolbert's recent book The Sixth Extinction: An Unnatural History is science journalism of a high order. As with her earlier notable book on climate change, Field Notes from a Catastrophe, she includes lively narrative accounts of her visits to places around the world where scientists are at work and communicates the import of their work with clarity and intelligence. Well-informed background discussions on the general topic of extinction are woven into these narratives, in passages well pitched to the understanding of the general reader. Foreboding though the subject may be the book is a pleasure to read.
The phenomenon of species extinction has only begun to be understood in relatively recent times. Kolbert traces the discussions of the 19th century from the ground-breaking conclusion of Cuvier to the doubting Lyell and finally Darwin, whose theory of evolution necessarily involved the disappearance as well as the emergence of species.
In evolutionary terms the mass extinctions of the distant past are a special case, arising from relatively sudden events for which natural selection over long periods of time had not prepared many of the species which disappeared under the stress of a rapidly changed environment. Kolbert comments on the fact that just as we have recovered the story of these past events and identified five of them we have discovered that we are causing another. Whether it will reach the proportions of the Big Five is not yet known, but the indications are significant enough for it to be called the Sixth Extinction. She notes the estimation that one-third of all reef-building corals, a third of all freshwater mollusks, a third of sharks and rays, a quarter of all mammals, a fifth of all reptiles , and a sixth of all birds are headed toward oblivion. It's no small matter.