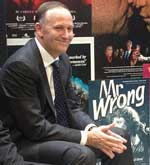 New Zealand's general election is over. The National Party has won itself another three years in government. With a probable overall majority and the support of three fringe MPs, prime minister John Key and his cabinet will be able to do more or less what they like. Given the government's performance on climate matters over the last six years — turning the Emissions Trading Scheme into little more than a corporate welfare handout while senior cabinet ministers flirt with outright climate denial — and with signals that they intend to modify the Resource Management Act to make it easier to drill, mine and pollute, it's hard to avoid the conclusion that the next three years are going to see New Zealand's climate policies slip even further out of touch with what's really necessary.
I don't want to get into a discussion of why opposition parties were unable to persuade voters to unseat Key & Co: that's being widely canvassed. I do want to consider what might be done to prevent the next three years being as bad as the last six from a climate policy perspective.
One thing is very clear: the climate issue is not going away. While carbon emissions hit new records, the UN secretary general Ban Ki-Moon has been trying to galvanise world leaders to take the issue seriously. Hundreds of thousands of ordinary citizens have taken part in people's climate marches around the world. And the climate news remains, as ever, gloomy. Ice melts, floods surge and sea levels continue to rise. "Business as usual" continues, but is being challenged on many levels.
Gareth Morgan, the motorbike adventurer, philanthropist and prolific author, is no stranger to the climate debate. He understands the issue in the way only someone who has written a book on the subject can ( 😉 ). In a recent blog post, Morgan looked at what it might take to get climate action in the current New Zealand political climate. His conclusion? That we need a new "bluegreen" political party.
But for me, the most frustrating aspect of the election result is the entrenched inability of the Green Party to grasp that the environmental message is something that appeals to middle-of-the-road New Zealanders, not just Lefties.

Sadly the Green Party's policies for environmental sustainability have always come with a nasty fishhook – the out-dated edict that social justice can only be achieved by rehashed socialism. This has rendered the Green Party a real melon to mainstream New Zealand – a watermelon to be precise, far too red on the inside for middle New Zealand to stomach.
For me, the frustrating thing is that the other Gareth's1 political analysis completely misreads what's going on at the same time as his analysis of National government's performance on climate over the last six years is absolutely spot on….
Continue reading "Where do we go but nowhere?"
No, not that other Gareth. This one. [↩]