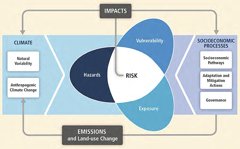 After the usual run of late nights and argument, the IPCC has released the second part of its fifth report — the Working Group 2 report on climate impacts and risks management. Commenting on the report, VUW climate scientist Professor Tim Naish said "this latest report makes it quite clear that New Zealand is under-prepared and faces a significant 'adaptation deficit' in the context of the projected impacts and risks from global average warming of +2 to 4°C by the end of the century."
The IPCC identifies eight key regional risks for New Zealand and Australia:
significant impacts on coral reefs in Australia as oceans warm and acidify
loss of montane ecosystems in Australia, as climate warms and snow lines rise
increased frequency of and intensity of flooding in NZ and Australia
water resources in Southern Australia will be under increased pressure
more intense heatwaves will bring increased death rates and infrastructure damage
increasing risks of damaging wildfires in New Zealand and southern Australia
increased risks to coastal infrastructure and ecosystems from sea level rise
risk of severe drying in parts of Australia could hit agricultural production
For New Zealand, extreme weather events such as flooding and heatwaves are expected to increase in frequency and severity, and rainfall is expected to increase on the already wet west coast and decrease in the east and north east. Sea level rise of up to one metre is expected to cause significant problems for coastal communities.
VUW's Jim Renwick points to sea level rise as a big issue:
Every 10cm of rise triples the risk of a given inundation event, and we are expecting something like a metre of rise this century. That would mean today's 1-in-100 year event occurs at least annually at many New Zealand coastal locations. New Zealand has a great deal of valuable property and infrastructure close to the coast that will be increasingly at risk as time goes on.
The Summary for Policymakers of the WG2 report is available here (pdf), and the final draft of the full report can be downloaded from this page. The Australia and New Zealand chapter (25) is here (pdf) and the Small Islands (Ch 29) here (pdf).
A huge amount of coverage of the report's findings has already hit the net, and there will be more to come. Check out The Guardian's take on the five key points in the report, The Conversation's examination of climate health risks, Graham Readfearn's commentary on 25 years of IPCC warnings, and Peter Griffin's look at the prospects for agriculture. I'll have a post about the NZ political response to the report tomorrow.