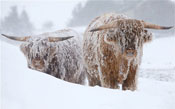 It's been a cold and snowy end to winter in Britain and much of Europe. The worst March snowfall for 30 years (according to The Telegraph) caused significant disruption to much of the UK, and lead to heavy loss of sheep and lambs in Wales. The UK Met Office reports that March is likely to have been the coldest since 1962, with temperatures running 3ºC below average. The weather pattern that brought the cold outbreak from the east looks set to continue, with only a hint of a return to more normal westerlies and temperatures by the middle of April.
Over the last few years I've made more than a few references to the emerging relationship between warming in the Arctic and the loss of sea ice to changes in the patterns of Northern Hemisphere weather. Take a look at this map, plotted at NOAA's ESRL site using NCEP/NCAR reanalysis data (click on the image to see the original plot):
The chart shows sea level pressure anomalies (departures from average) for March1. The big red blob shows high pressures anchored over Greenland and Iceland. The big band of purple and blue to the south shows low pressure. Around high pressure systems (anticyclones) in the northern hemisphere the wind blows clockwise, and so the the white band between the high and low pressure zones shows the predominant wind flow. For Britain and most of Europe, that's been bringing cold Siberian air out of the east, and delaying the end of winter. In more "normal" years, westerlies would dominate the weather, delivering the sunshine and showers so typical of a British spring. On the western edge of that high pressure, the wind from the south has been bringing significant warmth to western Greenland and the Labrador Sea.
How does this relate to Arctic warming? Last week, German climate scientist Stefan Rahmstorf, head of the Potsdam climate research institute, took the opportunity to look at recent research into the relationship between Arctic sea ice loss and the cold outbreaks that have been a feature of recent winters in western Europe. In a blog post, translated into English by the multilingual lagomorph Mr Eli Rabett2, Rahmstorf arrives at a straightforward conclusion:
…the above studies provide strong evidence for a link between Arctic ice loss due to global warming, more frequent winter high pressure, especially over the Atlantic-European part of the Arctic, and an associated influx of cold air to Europe.
It's worth reading Rahmstorf's post carefully3 to see how researchers are beginning to piece together the impact that the changing Arctic is having on atmospheric dynamics in the northern hemisphere.
This is science struggling to keep up with the pace of climate change as it happens — fascinating to watch, and frightening at the same time. As the Arctic continues to warm, and the ice continues to disappear, the impacts are in danger of running ahead of our understanding. One thing we can be sure of — the Arctic is not about to stop melting. We're in for a wild ride, if this winter is anything to go by…
Up to March 28th – the latest data available at the time of writing. [↩]
Give the lad a carrot. [↩]
Either at Eli's or at Neven's sea ice blog where there's and interesting discussion of what might be going on – and the impacts of "sudden stratospheric warming" events [Weather Underground, BBC]. [↩]